Services
Our services include (cold) bending of pipes and tubes with small to large diameters. We bend ferrous and non-ferrous materials into any conceivable form, using a wide range of processing techniques including reshaping, machining, surface treatment, thermal insulation, and specialist MIG-TIG welding.
The expert engineers at Buigstaal Tube Bending are your point of contact. They are committed to your entire process, from (pre-)start to finish and can take on any part of a project, or handle it in its entirety.
Our commitment and innovative capacity have resulted in cost-saving, durable solutions for our customers. Your project is our challenge!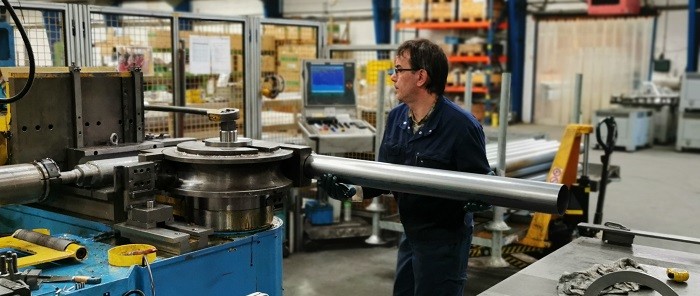 ---
Bending / Rolling (4 – 168 mm)

Buigstaal Tube Bending bends tubes of any ferrous or non-ferrous material in any form, from the simplest to the most complex of forms. Our bent products are used for a wide range of industrial applications. Buigstaal Tube Bending has access to an ultramodern CNC machine park with a capacity to process diameters of 4 up to 168 mm, and various wall thicknesses.

Thermal Isulation

In these times of increased ecological awareness and the need to reduce our ever-increasing energy expenses, thermal insulation is an excellent way of realizing energy-saving and sound-absorbing products and/or processes. Buigstaal Tube Bending has the experience and technical knowhow required to realize your extensive and complex insulation solutions swiftly and cost-effectively, whether in the form of a final product or independent process.

Applications

Thermal insulation is used for motors and motor components, exhaust systems, and industrial pipes and machinery, among other things. Our company specialises in so-called high temperature insulation for both prototypes and serial product solutions. This includes heat shields, exhaust insulation and full insulation of non-tubular components. The advantages of pipe and tube insulation:

Lower temperatures in the motor compartment;
Staff and operators are protected against burns;
Higher temperatures in the exhaust device results in improved exhaust system efficiency;
Protection of pipes, wiring, and coils against heat generated by motors and exhaust systems;
Reduced risk of fire due to hydraulic fluids that come into contact with hot surfaces.

Quality and stability

Buigstaal Tube Bending uses insulation material with exceptional thermal stability; its soft fibre structure is maintained up to the maximum allowed temperature. This material doesn't lose its mechanical qualities during use and won't produce any odours or vapours during first use. Our stainless-steel foil is perfectly suitable for applications in heavy-duty environments with high pollution levels, hazardous, corrosive vapours or fluids.

Surface treatment technology

Buigstaal Tube Bending works closely with renowned surface treatment specialists. This enables us to offer our customers the following operations:

thermal galvanization and electrogalvanization;

wet painting and powder coating;

cataphoretic coating;

pickling and passivation;

electroless nickel plating

Machining operations

We offer (limited) machining operations, including:

Drilling or milling holes;

CNC turning of non-standard components;

Application of screw threads

Application of welding seams according to uniform standards.

Ultrasonic cleaning

Ultrasonic cleaning is a highly effective cleaning technique. In an ultrasonic bath sound waves (inaudible to the human ear) are sent through the water that contains a cleansing agent. This creates the cleaning effect. Buigstaal Tube Bending cleans your product(s) in a 1,500-liter ultrasonic bath.

THE ADVANTAGES OF ULTRASONIC CLEANING

Ultrasonic cleaning offers many advantages over manual cleaning. The flows created by ultrasonic fluid are so strong they can reach even the tiniest corners, recesses and holes; places you cannot possibly reach through manual cleaning. Ultrasonic cleaning fluids can access even the smallest openings in objects. The force of the implosions results in thorough and accurate cleaning.

NO MORE DAMAGE

When performed properly, ultrasonic cleaning cannot damage your products; pure fluids are used only. This is in contrast with manual cleaning techniques that require the use of materials with sturdy structures. Scratches and other forms of damage are there before you know it.

HIGH SPEED

Ultrasonic cleaning is performed at high speeds, enabling thorough cleaning of objects with complex forms, bends, edges, corners, and sides. Cleaning these objects manually would take forever. The form of the product does not influence the duration of the ultrasonic cleaning process, and this results in considerable time savings.

MIG/MAG, TIG Welding

For many of our customers we bend products to manufacture (ready-to-assemble) final products.

We also specialize in the assembly of tube components through welding or soldering. Our welding quality system is in accordance with ISO 3834 and NIL certified. A welding coordinator (MLT/IWT, certified VT-w-2) is present during the production process and authorized to perform welding inspections. In addition, we are Lloyds certified and authorized to re-stamp materials.

Our expert welders can weld any sort of material, including:

Stainless steel (353MA, APMT);
various types of steel;
aluminium;
brass;
copper.

For special welding projects our quality control team cooperates with our welding expert to draw up protocols and procedures (LMK, WPS). These documents include specifications on heat treatment of materials and pressure tests and material tests for both initial materials and the final product. Procedures are carried out and reported according to our customer-specific requirements and are in accordance with the ISO 9001 standard.

Reshaping + pipe end processes

We reshape and mechanically process tube materials and pipe ends. Our tube services include:

Bevelling or flaring of tubes;

Partially raising tubes, cutting tubes to length;

Application of recesses and/or edge shapes;

Application of screw thread;

Application of slotted holes.